Senior Mechatronica Engineer
Do you have a passion for mechatronics?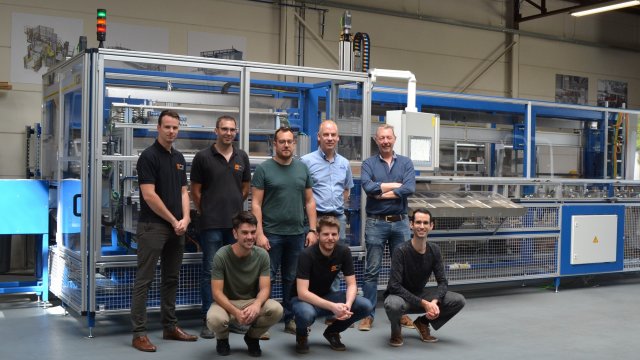 Will you join our team?
THE JOB
You design mechatronic aspects for a fast, accurate and reliable production machine;

The design and tuning of motion control systems using linear and rotary servomotors based on sensor and trajectory information (feedback and feedforward tuning);

Modeling and optimization of dynamic properties of mechanical components in the servo loop;

Modeling and design of the integral mechatronic system and the servo axis for specified performance;

Measurement techniques for validation and problem analysis in modules and systems;

Occasional visits to customer sites in Asia for equipment installation and troubleshooting;

Working in a multidisciplinary team.
YOUR PROFILE
EDUCATION
Master in mechanical engineering, control engineering or mechatronics
EXPERIENCE
You have experience with predictive modelling, FEM tools or multiphysical simulation. You know how to use these tools to realize stable feedback control and advanced feedforward filters in equipment;

You are familiar with state-of-the-art technology to optimize motion control systems, such as Iterative Learning Control, system identification and optimization methods;

You use your experience and tools to realize semiconductor assembly equipment that is cheaper, faster, more accurate, more stable, more reliable and with a higher level of automation;

You are a self-starter and you join the project team behind the designs with a professional and motivational communication style;

You think together with mechanical, process, software and electrical engineers in solutions to solve multidisciplinary problems;

You are responsible for the feasibility and implementation of the control system;

You are able to transfer this knowledge to the design teams;

You work in a team of mechanical and mechatronic design engineers and you drive the effectiveness of working methods;
PERSONAL SKILLS
You are analytical, pragmatic and result-oriented;

Good interpersonal and communication skills and the ability to collaborate efficiently at all levels of the organization;

Sufficient command of the English language in speech and writing;

Must be detailed and multi-task focused;

Must have a positive attitude towards teamwork and process improvement;

Ability to work in a multifunctional team;

A team player with good analytical skills and hands-on mentality;

Willing to travel occasionally (1 to 2 times a year) to our customers in the Far East;

You master the Dutch and English language in word and writing.
OUR OFFER
An interesting and varied position within a valued engineering firm;
A competitive salary with a range of secondary conditions;
Training opportunities through our personal development plan and access to the "Goodhabitz" training platform;
A challenging job with freedom to organize your own time so that your work/life balance is always right.
WHY ACE?
At ACE development & engineering you will end up in a strong, people-oriented organization with short communication lines. Our (new) employees quickly feel at home in our direct and transparent no-nonsense corporate culture, where people and technology are always central. We consciously choose to build and maintain long-term relationships. This applies to both our customers and our own employees. At ACE you are also presented with a wide range of projects.
CONTACT
Do you have questions or are you interested? Apply now using the form below or contact Frank Oolbekkink. He will be happy to help you!
E: frank.oolbekkink@ace.eu
T: +31 6 1510 5149
At ACE I work for various clients. I like that because it gives me the chance to taste a lot of different technologies.
At ACE you will have the opportunity to develop your talents further.
We are easy in communication here and there is plenty of time for humor during work. A lot can be said to each other. That is very important to me. Just like being proud of your work.