Image
career story Pascal Frijns Eindhoven
FROM DESIGNER TO PROJECT ENGINEER
It was Bram Slabbers who immediately after graduating invited Pascal to ACE development & engineering in Eindhoven. "I got a message in the morning and we had coffee that same afternoon. A week later, I had my first day at work. "According to Pascal, this approach is typical of ACE: personal, direct and with appreciation. 'It was flattering that they were so eager to hire me and took the trouble to do this in such a personal way."
In addition, the work environment was also very interesting for me because at ACE you have the opportunity to do various engineering assignments for different clients. I thought I am still young, I can still browse and look around and develop broadly. '
All in one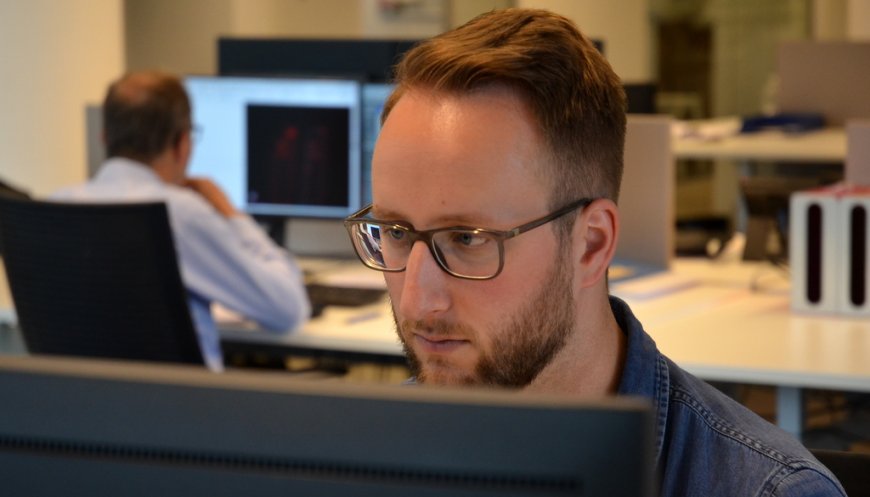 No sooner said than done. It was a flying start to a career as a project engineer at ACE. Pascal started on an external project at a small company in Lummen, Belgium. They make machines for the chocolate industry; small machines for the chocolates and large industrial factory machines that also made cookies. 'I was able to do so much there. Since we were only ten people, you didn't have just one task. In addition to a piece of engineering, I also learned a lot about purchasing, logistics and contact with suppliers. This is where the social aspect of the profession immediately came into play. '
managing career
After two years, Pascal decided he would like to take on another assignment. "That's the nice thing about ACE development & engineering, if you have certain wishes, they really listen to them and they see if that wish is possible somewhere." Pascal has subsequently worked in various other places. Also for clients where the focus was 100% on engineering. "Then I would spend 40 hours a week drawing at the computer in CAD. That had its challenges, but in the end I missed the social aspect. "Being in contact with various stakeholders and having a guiding role in this also attracts me."
technical and social
In his current position as project engineer, that social aspect has become even more important. A function that he can largely shape himself through the new course that ACE Netherlands is setting out. It is a way of working that they have been using at ACE Belgium for 20 years. Pascal now fulfills a kind of bridge function between 'the way of working' in Belgium in Lummen and the Netherlands in Eindhoven. "You have to see it this way," explains Pascal. "At ACE Lummen they have been accepting orders for 20 years in which they build and deliver complete machines.
At ACE Eindhoven we were more focused on supplying specific parts and services that are applied to certain machines within industrial automation.
special electrical outlets
However, as a team we are also perfectly capable of devising, developing and delivering a complete machine or assembly line. In Eindhoven, we now want to develop this further with the knowledge and experience from ACE Lummen. My role is to further organize this together with colleagues.
"Shall I give an example?" There is currently a request from a company that has developed special electrical outlets for home use. They had it produced in China, but now want to do the production themselves. "The question is whether we can design a machine," says Pascal. "I will first collect all kinds of information about the product, I also want to see the product to find out what technology might be needed."
With this information in his pocket, Pascal goes to his colleagues in Lummen to come up with a plan of action. "I work there together with a project manager who has 20 years of experience in this area. Together we will make a calculation, among other things. What should be in the machine, how many hours are involved, that sort of thing. Eventually I come to a basic sketch and a project plan. I then submit all of this to the customer. I am constantly working together with a lot of people, puzzling. I love that diversity."
together from A to B
At the moment Pascal is having a great time at ACE in Eindhoven and Lummen. "I am given all the space to develop myself. I can combine technical insight with creativity and work together with different parties. Because of this I am growing more and more as a person. And if you need additional education for your work, there are always options. Everyone gets a course in communication skills anyway. Precisely because the social and communicative aspect is more important than many people think. At ACE development & engineering you can always involve very experienced colleagues in your project when you have a question. Finding a solution together, discovering together how things can be done differently, that's what makes it so beautiful!
LOOKING FOR A NEW CHALLENGE?
Check out our vacancies now and apply online today! Our team will be happy to help you discover your possibilities at ACE development & engineering.