Image
career story Ruud Evers Eindhoven
'At ACE you are in charge of your own career', states project leader Ruud Evers (33). 'If you find your work boring then you haven't seized your opportunities. Assertiveness is rewarded here.' He was recently promoted from lead engineer to project leader within the hightech business unit of ACE in Eindhoven. There was a lot leading up to this. A career path starting with practice experience all the way to coaching colleagues in a technical environment.
'Good morning.' 'Good morning.' It is eight in the morning when Ruud walks into the office of ACE in Eindhoven, grabs a cup of tea and greets his colleagues. 'We don't do a little dance, but we just say good morning.' And just like at any office, Ruud starts up his laptop and begins answering emails. The location where he does this changes: one day at ACE and the next on location at the client, an important supplier of high tech machines for the semiconductor industry, where Ruud works on many projects.
Ruud explains that the client develops chip machines whereby there are many steps in the development process. 'You have to imagine that this is a giant machine that doesn't fit in this room. Thousands of people work on this.
The machine is divided into volumes. Each volume belongs to a specific department and a specific function. My team and I, for example, are responsible for gas, water and air in the machine.' So if a module needs water, Ruud as project leader is responsible for designing a pipeline that provides water. For this, the specifications have to be taken into consideration: a certain flow, a certain pressure, a certain margin and of a course the available volume in which to construct it.
Discussing, planning and managing
Back to the inbox. Here Ruud can find the issues that obstruct the client. They come from many of the departments where Ruud works on projects. The department for climate control and infrastructure, for example, wants to add a filter to a pipeline. 'I get the question of how much time and money it takes to make the change. Since the volume in the machine is packed you have to find a way to fit the filter; this is the challenge. Based on this I make an estimate for what needs to change to make this possible. What new parts are needed, what parts of the current system need to change and what documentation needs to be provided? This creates an estimate for the number of hours required.
I give that to our project manager, Joep, who turns it into an offer.' For the department for mechanical development tools, the process works similarly. Within the volume of a sub-system, Ruud and his team are responsible for specific tools. 'For example, the client might need an accurate, precision tool for a machine. We can design this or make changes to an existing tool.' Once the client comes to an agreement, Ruud and his team can begin. With the actual execution he is becoming less and less involved. As project leader he is mostly concerned with discussing with the client, planning, managing, and making sure that it organizationally runs smoothly.
Social Skills
The primary challenge in his role as project leader is the social skills. More than before Ruud has to put himself in others' positions, facilitate agreement and thus call on his social skills. 'You want to do this well, since nothing is as annoying as when someone says at the end that something isn't possible. Then you can start over.' This isn't always easy, Ruud indicates. Sometimes there are new insights or additional specifications; sometimes the client renounces part of the design so Ruud has to change his plans.
'I sometimes find this quite frustrating. Eventually I try to compromise because you do want to finish the assignment well.
Usually I first approach the project manager or another projectleader at ACE to confer about the best approach.' Brainstorming with colleagues is something Ruud finds valuable. Especially since Ruud has not been a project leader for long and is still searching for the best balance and leadership style. 'The approach I currently take is more directed towards formal discussion and managing of processes. I think that I eventually need more of a coaching role, so that I motivate my team and allow them to grow. I can still grow in this aspect.' ACE stimulates him in this development and offered him, for example, the opportunity to follow a Leadership Essential Program.
Practical experience as foundation
Still, the technical side is not distant. Within the projects there is always a testing phase. These are the moments where Ruud enters the clean room to check that the offered solution connects correctly. Contact with the practical side is important for Ruud to be able to do his job effectively. 'By staying in contact with practical aspects I know what a client does or does not want, I can better understand the processes of the client, and I know what problems the engineers encounter.'
He already realized the importance of practical experience during his education as designer and engineer at Fontys Hogeschool in Eindhoven. He deliberately began work as a designer and engineer at a machine factory directly following his college education in order to experience as many facets of the process as possible. 'Here I directly saw the consequence of a mistake in the drawing. This made me more aware and I took this experience with me to my leading role.'
Poka Yoke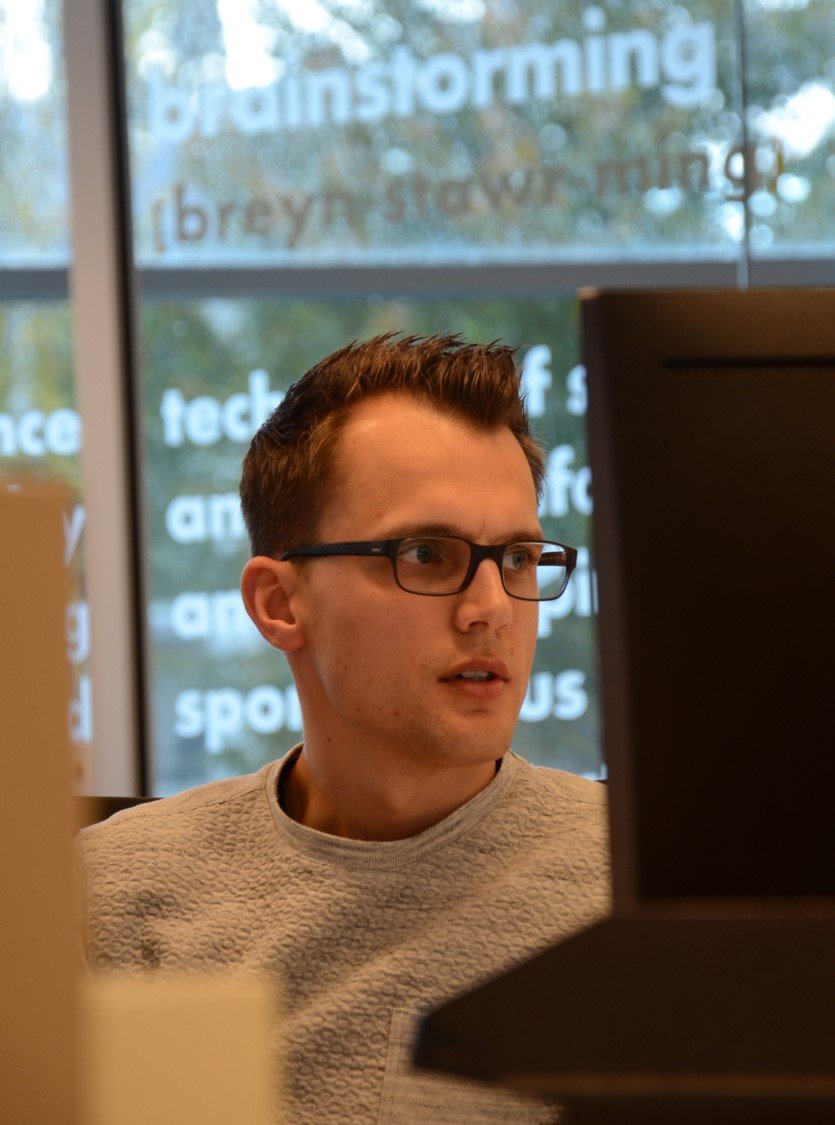 Still, the creativity, coming up with solutions for specific problems, is what Ruud likes about his work. With a twinkle in his eyes, he recalls the project Poka Yoke. 'Poka Yoke means idiot proof. So Pete with his two left hands also needs to be able to connect the machine.' Ruud explains that the client for this project went a certain direction. 'I thought that a simpler solution was possible and came up with an idea which is now a standard solution.' It is an example that taking initiative can result in good things. That thinking is appreciated and not forced at ACE. In this way it Works motivationally when your ideas are used, thinks Ruud. 'I enjoy seeing my work in a project.' And although he works less on the execution itself, he is still proud when he successfully finishes a project... 'At ACE I feel valued.'
This story is written by Elky Rosa Gerritsen by Carrièreverhalen.nl