COMPLEX
MANOEUVERS
Rockfon from Wijnegem is part of the ROCKWOOL Group. They produce fire-safe and acoustic suspended ceilings and components for this.
Rockfon wanted to automate the entire production process and make everything work together seamlessly from start to finish. From profile production to stacking boxes. Automation of the packing process was not easy: complex manoeuvers that a hand can make effortlessly, for example putting something in a box, are a lot more difficult for a machine.
ACE development & engineering has not only increased productivity for Rockfon. Also safety, ergonomics and workability have been given a major boost.
FULL
AUTOMATION
Initially, the aluminum T-profiles were still manually inserted into cardboard boxes. A labor-intensive and straining job. ACE fully automated this packing process. This project involved developing the packaging installation for Rockfon from A to Z:
concept definition in collaboration with Rockfon
mechanical and electrical design
PLC programming
project supervision
construction of the machine
testing
After the products have been packed in boxes, these boxes are palletised using a robot installation.
from concept to assembly
final check before delivery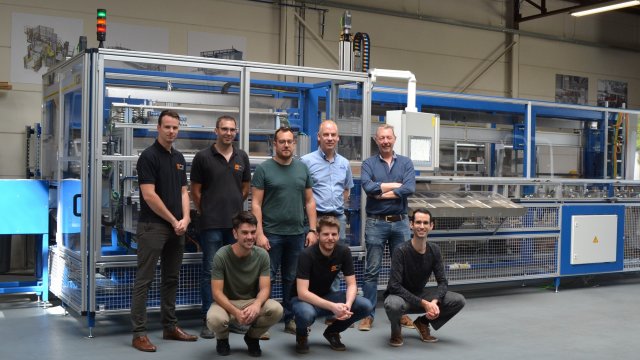 content ACE team
"SIEMENS PARTS WERE SELECTED IN THE INSTALLATION. THE S71500 PLATFORM, THAT FUNCTIONS OPTIMALLY WITH THE DECENTRAL I / O SYSTEMS ET200SP AND ET200AL, SERVES AS A PLC. The low-voltage equipment, the servo motors with accompanying servo drives and the network switches are also Siemens parts"
Koen Aerts -project leader automation ACE development & engineering Lummen
ergonomics and
workability
The results are impressive. Shortly after commissioning, the machines were already running at 90% of the set target. For Rockfon it was important to give the ergonomics and workability a significant boost for its operators.
We succeeded in this and with the help of training sessions, the operators were actually retrained to become specialists for the new packaging line. Thanks to the well-functioning controls and ditto alarm management, false alarms and the loss of time associated with them are history now.
another two
machines
The modules of all notifications and hardware alarms are integrated, which leads to a better overview and higher performance.
Rockfon is so satisfied with the realized TIA project that they have already had ACE develop four lines for their high volume runners under the T-profiles. These too are now running at full speed with Siemens technology.
at a glance:
objectives 
and challenges
To replace the flexibility of the manual process with the precision of robotics.
To be fully operational from day one with zero downtime.
To ensure secure network for remote maintenance and service upgrades.
To demonstrate that experienced workers can be reassigned to higher value roles.
technical
solution
TIA portal, PLC SIMATIC S7-1500F
SINEMA Remote Connect
SCALANCE M874-3, SCALANCE XB216
I/O systems SIMATIC ET200SP & ET200AL, SIMATIC Comfort panels, SIMATIC S120 Booksize drives, SIMOTICS servo motors, SIRIUS switching devices, SITOP power supply units
benefits
for Rockfon®
Successful replacement of manual work by smart packaging machine.
Rockfon® reassigned two workers to higher quality jobs.
Smart packaging machine runs smoothly from day one, thanks to testing and quality checks completed through the TIA portal.
Automated packaging machine is now fully operational, runs in three shifts and has significantly lowered operating costs.
Rockfon® has since installed two identical machines and plans to automate two larger volume lines.
ACE development & engineering press